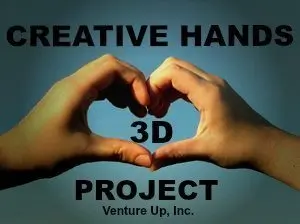 Since 1983, Venture Up and its founders – who have traveled to more than 50 countries on five continents – have supported international and local charity efforts. Your team can become part of Venture Up's efforts to serve your local community, or people beyond our borders.
Bike Builders / Creative Hands 3D / Sound Pipes / Corporate Elves / ArtRageous Paint Fest / Fundraising & Fitness Events
Bike Builders
Setting the wheels in motion for our Bike Builders program requires a devoted team. Team members first engage in a series of fun interactive problem-solving challenges in order to earn the makings of what will soon become a terrific set of bikes. Venture Up provides all you need: tools, bicycle parts, and decorations.
No previous experience is needed. Bikes are often gifted to children from 7 to 10 years old, or donated to foster children of 18 years who are about to enter the the real world, and who need wheels to get to work or school. You may choose your non-profit organization, or team up with us to find the right match. We have a variety of creative ways to surprise your recipients.
Bionic Hands 3D Project
Thousands of children are born each year with Symbrachydactyly, a congenital condition in which fingers are missing, webbed or conjoined.
Recently, 3D printing has revolutionized the world of prosthetics for people with this and other disabilities. A customized fit- and highly durable product can now be created at a fraction of the traditional cost. Venture Up is funding efforts with biomedical engineers to produce artificial hands using cutting edge 3D technology. During this event, corporate teams work together assembling the units, and in a few hours create a lasting impact improving the everyday lives of these children across the U.S. and abroad.
Can Creations
Corporate clients and Venture Up partner with community organizations to help fight hunger. Teams are challenged to create a series of 2 or 3 dimensional sculptures using 1000's of non-perishable food products. A panel of judges keep a tally of team points to determine various category winners such as Most Creative, Corporate Essence, Best Overall… but the real winners are the food banks and shelters who ultimately receive the 1000's of canned goods and the people they serve.
Sound Pipes
The first, second, and third grades are the golden years to help children learn to read. Venture Up has helped introduce hundreds of children to the world of reading with its Sound Pipes team building program.
We provide all of the materials for teams to build a set of special tubing devices designed to make it possible for young learners to hear their voices clearly so the brain can remember it more easily. Children simply hold the tube device like a small phone near the ear while reading.
No matter how quietly the child speaks, sound resonates clearly into the ear, reinforcing words, sounds, and syllables. The tubes are donated to local schools in the name of your organization, and may also be sent overseas to your desired non-profit group.
Corporate Elves
Corporate Elves work year-round providing food, toys, and surprises to local groups in need. Working with community food banks, schools and shelters, companies fund a shopping spree for corporate teams to find the right gifts on the wish-list for the chosen community group. Venture Up provides all the makings for creative gift wrapping: boxes, wrapping papers, ribbons, decorations, bows, card stock, tapes, scissors, pens and markers. We jump start the event with a series of fun, energizing interactive games to build team spirit and energy. More fun lies ahead as the teams wrap the gifts in a festive atmosphere with music and cheer.
ArtRageous Paint Fest
Imagine a visual team building event that takes only 1.5 to 2 hours to complete and the final result lasts for a lifetime! Paint Fest requires team members to hand paint a series of pre-drawn canvas panels that ultimately combine to form a colorful wall of art. The final creation is donated for exhibit at a local charity or hospital for the public to enjoy for years to come.
Fundraising & Fitness Events
Venture Up has the creative resources to provide festive, productive fundraising and fitness events, designed to encourage your employees to keep and stay in shape, or involve your staff in innovative ways to serve the community. Please see our Inflatable games which provide a visual, fun and media-friendly event to support your cause.