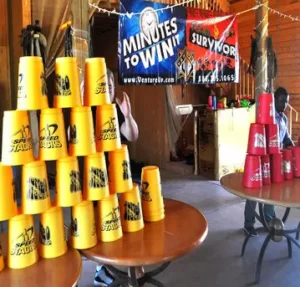 Rise to the challenge and fun with Venture Up's Team Survivor and Minutes-to-Win-It event. Inspired by the popular TV shows, this combo program is competitive and geared for all abilities and professional levels. Teams stay intact and compete head-to-head through a course of mental challenges. No need for athletes on this event since activities are doable for all levels when some games call for physical involvement, which is always voluntary.
At each activity, teams are rewarded with score beads based on their level of success. Teams find collaboration, creativity and communication are critical to survival. The more difficult the challenge, the more beads are earned.
Teams en route face a series of fast paced interactive elements designed to challenge creative and problem solving skills. Activities may include: Catapult Building, The Maze, Teamwood, Bag It, Arrowheads, Bit Dicy, Running Man, Scrabbled, Focus Tubes and many more.
The program culminates in a festive finale when all the teams return to the starting point. Teams present their chants, top performers are announced, and the winning teams revel in victory.