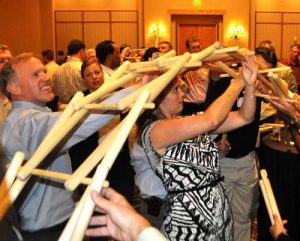 Motivation … Strategic … Communication …  Recognition … Creativity … Fun Games! 
Venture Up has strategic games to inspire your team. Much credit is due to our long list of repeat clients who keep us fresh and innovative. We're committed to quality and remain flexible for you. We book at the last minute, or plan months ahead. We have one priority: to make your team building event your best ever. And history shows we can. Check out our Frequently Asked Questions.
Strategic Games and Leadership Challenges are designed to reinforce company values and strategies for success. High energy and fun for all abilities, teams face a series of creative problem-solving obstacles, challenging the intellect and motivating teams to succeed with limited resources and time. Team members are continually engaged in the very factors that comprise a successful team. We aim to bring out the best in each team player.
As teams transition through the course, the bar is raised with each success. Collectively, these activities reinforce team relationships, underscore the power of diversity and the unlimited potential of cooperation at all levels.
Elements are selected and sequenced according to your training or event objectives. Your custom program may be set up in just about any location, inside or outdoors. Since 1983, Venture Up has held thousands of corporate events and is highly experienced in adapting to unknowns that may arise on site.
Teams experience new ways to …
• view change as a force impacting motivation and involvement
• evaluate how interpretation affects communication
• improve communication and trust
• build collaboration and alignment
• solve problems creatively
• have FUN !