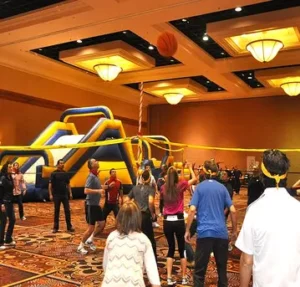 CORN HOLE: Also known as "Baggo," "Bean Bag Tossing" and "Hill Billy Horse Shoes," Corn Hole has resurged in popularity across the coast, from Florida to San Francisco. Armed with bean bags, teams go head-to-head scoring one (1) point for each bag on the platform, and three (3) points putting the bag in the "hole."  Games normally finish at 21 points. Win or lose, Corn Hole is for anyone, regardless of age, ability or background.
4-SQUARE VOLLEYBALL (4-Way Badminton): Four-Way Volleyball puts a new twist on the classic beach game. With a custom designed net system, suitable for indoors or outside, four teams play at once, competing against each other in a fast-paced game where strategy and fun create an energizing team experience. Playing with a soft skin, easy-on-the-hands, Nerf-type volleyball, teams gain points by scoring against any of the other three teams. Strategy is important, as teams make and break alliances with each other to help knock others out of the lead. The 4-Square Volleyball system suits indoor conference halls, city parks or waterside. Each court can handle up to 50 participants. We also offer 4-Square Badminton.   VENTURE UP 4-WAY VOLLEYBALL VIDEO
NERF GUN BLASTER MASTER:  It's all out fun with Venture Up's Capture The Flag Nerf Blaster Master challenge. Teams are armed with a wide variety of monster size Nerf Guns, shooting soft darts up to 150 feet.  Team members run… protect… strategize… re-animate…trying to capture the other teams flag or VIP and bring it back to their own base.  Geared for all abilites. The rules of "engagement" are endless with the different types of games played, but win or loose, Capture The Flag is total fun for everyone.
OBSTACLE COURSE Giant Inflatables: They don't make them bigger than this. More than 60 feet long, 18 feet tall and 12 feet wide, Inflable Obstacles can swallow up a team in no time. Teams enjoy competing head-to-head, running through the inflatable obstacles, up and down inclines and through tunnels. It's a total team effort against the clock and each other. Other games to  include with the course are Ground Games, such as the Centipede Crawl, Tire Traverse and Shuttle Gates. Inflatable games are most often used for charity team building events and corporate celebrations.
HUMAN FOOSBALL: In Human Foosball, teams compete against each other in a life-size version of the popular table game played worldwide. Two teams at a time play on the 30 x 50 foot playing fields, scoring goals with a Nerf-type soccer ball. Players are harnessed to aluminum poles that allow only side to side movement — and no physical contact. Scoring is similar to any soccer game, but in this case, a team can score if an opposing player kicks the ball over the 9-foot wall. Each game lasts about 10 to 15 minutes. Teams play with soft nerf type soccer balls, and for extra fun may throw a second ball in to ramp up the action.
HOCKEY SHOT: Hockey Shot is Venture Up's "Miracle on the Grass," with a goal to win the Junior Stanley Cup. Also played on carpet or snow (as in Anchorage), Hockey Shot requires athletic footwear and no pads and no skating skills. Everyone does have a stick and pair of gloves. That's it. The job is to put the ball in the net, and rules are similar to that of the big boys in the NHL. We do offer Hockey Shot at Ice arenas of favorite hockey towns, such as Detroit and Minnesota, where hockey gear and minimal skating skills are required. But the best we can do is a Junior Stanley, not the real deal.
4-WAY TUG-A-WAR: Tug-A-Way is a classic game for any age. When it goes four ways, it's the ultimate challenge for larger teams. Up to 50 people can play. When each teams exert 2,000 pounds of force, it becomes a game of wits, strategy, and sheer endurance. Players pull on a soft, fat ship rope clenching jaws while trying to defeat the three teams. Expect lots of screaming, yelling, and grunting, but ultimately only one becomes a champion. And nobody chips a tooth.
GIANT SCRABBLE:  Giant Scrabble is a ballpit game for adults. Venture Up assigns each team a word they must spell. How? Well, among the 3,000 balls, some have letters of the alphabet. Under a tight deadline, team members jump inside the pit searching for lettered balls. The first team to spell the designated word wins.
RATAPULT BUILDING:  Lock and load, Fire!  Ratapult Building puts your creativity to the test. Teams are challenged to construct a working catapult, or giant sling shot, capable of shooting rubber rats for either distance or accuracy. Only the materials provided may be used. Well-built Ratapults can launch these critters more than 250 feet.
MOON BALL:  Soccer on steroids best describes Moonball. The ball is 8 feet in diameter and teams try their hardest to push, knee or throw the ball into their goal zone. This is no indoor game; a large field is required.