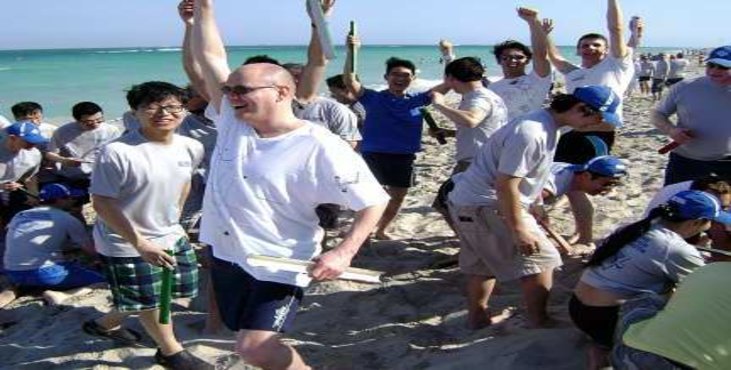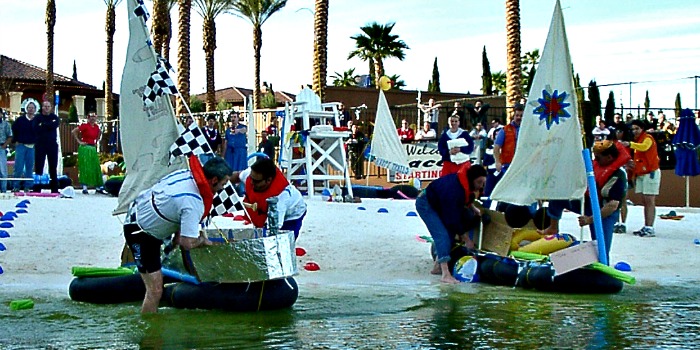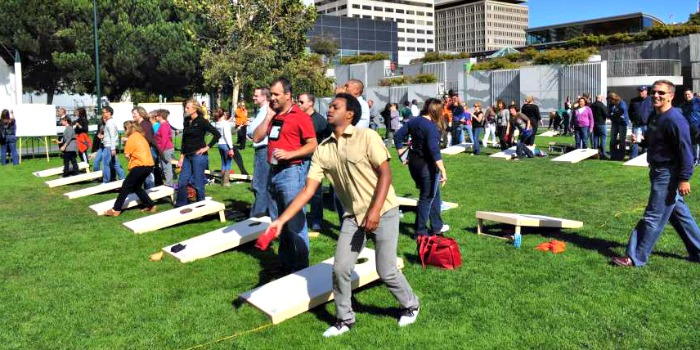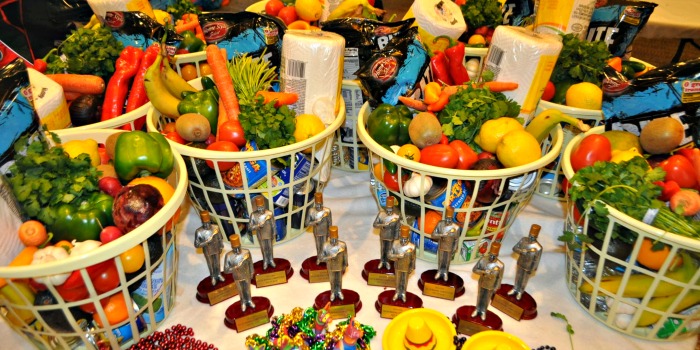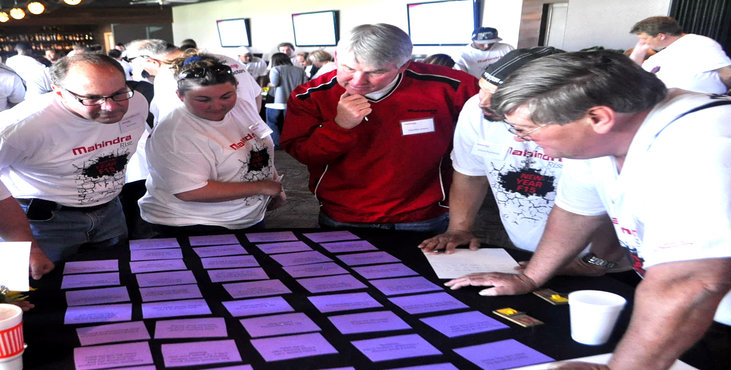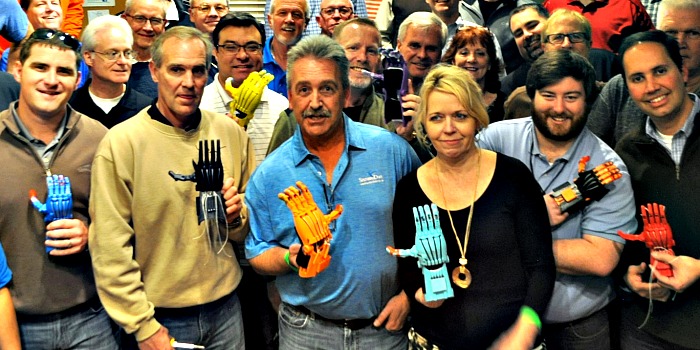 ABOUT VENTURE UP
About Venture Up's Company Story & History
Our Story
Blast to the Past ~ ~ ~ ~ ~ ~ ~ ~ ~ ~ ~ ~ ~ ~ ~ ~ ~ ~ ~ ~ ~ Newsletters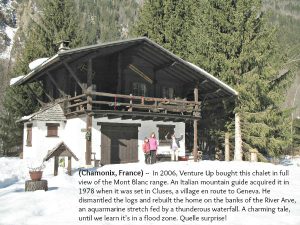 Trapped in a snowed-in chalet in Chamonix, France in 1983, the late winter storm swallowed the room in darkness as two American climbers sat by the dying flames thinking of ways to continue la belle vie.
After three days of captivity, the vote was unanimous: create an adventure company to write off traveling abroad. So when they returned to the USA, the two recent graduates of the University of Arizona started Venture Up.
A plant biochemist, co-founder David Lengyel has traveled to 50+ countries as a mountaineer, guide and consultant. He established Venture Up by leading first-time alpinists to world-famous summits and organizing climbing, caving and ropes courses in the US. Venture Up quickly grew to a team of highly-skilled (and well-educated) guides, and made its mark promoting responsible travel and cultural awareness at travel conferences in Europe, Asia and Russia.
International publicity drew widespread attention to Venture Up, and business leaders began hiring David to align their training and events with fun yet meaningful experiential activities to build trust and employee engagement.
While nearly all of Venture Up's programs today involve corporate training and events, the path was curvy. With a motto of "Yes we do," Venture Up was forced to create programs and practices serving many industries. In the early days, David has worked as a stand-in and consultant for films and commercials, and rigged ropes and adventure set-ups for fashion shoots.
He has delivered secret training programs to military and government groups, some of whom would arrive for payment with a suitcase full of cash. Venture Up has built portable climbing walls for trade shows and promotions, and run private programs for celebrity families and pro athletes. Today, we're open to anything, but nearly all of our business involves corporate groups — many of whom have been with Venture Up for decades.
As a business relying on repeat business, Venture Up thrives by listening to clients. "Our clients are our business consultants. They are the driving force behind our innovation, says David. "They always want something different and something new, and we continue to deliver."
Venture Up promotes diversity, inclusivity and social responsibility, and helps companies build team relationships and loyalty to the brand.
If you want a strong corporate culture and a happy workplace,
who ya gonna call?  (Hint: 888-305-1065)
Blast to the Past                                                         See clients in action
Training Topics
The Venture Up experience combines well with existing corporate training programs such at TQM, Strength Finders, and Lean Principals, or may be designed to focus on specific areas, such as:
Team Support

Maintaining it for the long run

Diversity

Benefits for the whole team

COMMUNICATION & COACHING

Improving skills for team efficiency

CHANGE

Breaking way to new opportunities

TRUST

Building and maintaining it

CREATIVITY

Defining goals to find

CONFLICT MANAGEMENT

Healthy vs. unhealthy

LEADERSHIP

vs management

ETIQUETTE

For everyone's success

MANAGING UP

Respect and solution oriented

IMPACTING OTHERS

Seeing the larger picture
Philosophy
Venture Up has a long-standing track record, serving more than 250,000 clients since we began in 1983. As corporate training technologies began shifting toward integrated learning models, Venture Up was on the forefront as one of the pioneers in corporate experiential learning.
The Venture Up experience integrates cognitive, emotional and physical awareness and perceptions. Our philosophy is rooted in the power of the individual in creating a high performance team and hence a successful organization.
At Venture Up we deal with large and small scale issues affecting organizations of all types and sizes. In motivating people toward optimum performance as team players, Venture Up provides programs to make people more aware of their abilities to effect change.
Our programs are flexible enough to be combined with existing corporate training programs, or may be designed to target clients' objectives. The exercises of a typical program establish trust and create a positive learning environment that enables people of all professional levels to become more creative and innovative in their thinking and problem solving. We aim to remove barriers that blocked them from trying something new and inspire them to look at problems from many points of view.
Programs are designed to be fun and challenging but geared for success. Our goal is to build relationships through positive feedback, recognition and reward. The result: team players leave with an action plan and are willing to try new ideas and look for new solutions back on the job.
Quality Service
Venture Up's focus on quality is here to stay. In an age of global competition, quality and service will remain top priorities for successful
organizations for many years to come.
We view quality as a vision of doing things right the first time for the ultimate purpose of creating and keeping customers. We adhere to the principles captured by the Harvard Business Review that caution against false goals of many activity-driven quality programs. We believe strongly in the need for measurable long-term results on the job. Anything short of exceeding customers' expectations and impacting organizational performance is activity for activity sake and not part of the quality process.
The success of any organization is dependent on the individual commitment of each employee to a common goal. Research has overwhelmingly demonstrated the need for individuals to feel a sense of ownership and pride in their work.
We work with organizations to help them maximize individual and organizational performance. It is through the accomplishment of common goals, through combined individual talents that teams are forged and true quality is achieved.
Vision
Our vision is a workplace with individuals committed to a common goal contributing their talents with self-motivated initiative, ownership and organizational pride.
Mission
Our mission is to provide realistic job-related learning experiences which empower individuals to contribute to common goals through effective individual and team behaviors; to work with organizations and individuals to ensure long term change and applications to the job.
Results
Our success is measured by the results of our clients, and is reflected in the quality of our staff. We practice our beliefs.
Testimonials
""We were delighted with the professionalism and flawlessness with which Venture Up carried out its responsibilities. As a group of consultants always looking for problems to solve, we tend not to be easily satisfied. Suffice it to say that numerous people thought the retreat was the best ever.""
-- - Marty Pollock
Director of Professional Development
McKinsey Consulting
""Venture Up made some pretty heavy duty promises to me before we went through the program as to how effective it would be, and you exceeded those promises beyond my biggest expectations. Venture Up helped teach us a more intense level of communication, teamwork, listening skills, problem solving as a team and goal setting. It also taught us that we can go beyond our comfort zone and accomplish great things together.""
-- - Meagan K. Burrows
Vice President, Sales
Paramount Pictures
""Thanks again for such a wonderful team building experience! Both our instructors were incredible. Our team has taken part in various team building organizations and activities but Venture Up's program was by far the best we have participated in.""
-- - Laura L. Ollis
Marketing Coordinator
SAP America
""Thank you for all your efforts in making the recent National Leadership Conference/Dealer/Press Meeting a success. The evaluation summary indicates this meeting was the best we've ever had.""
-- - Bill Clark
Meeting Planner
Phillips Consumer Electronics
""This event was an overwhelming success, and you deserve much of the credit. Venture Up provided excellent service and we all appreciated your availability and guidance throughout the planning process. Programs like this take an incredible amount of coordination, and your attention to detail and willingness to go the extra mile made the program a success. You made this event so fun and painless to plan.""
-- - Lisa Shimizu
Corporate Meeting Planner
Milliman & Robertson, Inc. Actuaries & Consultants
""My instincts told me it would be good. It wasn't. It was spectacular! I have never been so pleased and proud after any of my meetings.""
-- - Mike Pedreira
Corporate Meeting Planner
Benckiser Consumer Products
""I cannot thank you enough for the impact you have had on our Russian employees. Your course really opened up their minds and hearts. You have made my job of training them so much easier.""
-- - Sue Creek
Operations Director
Lensmeister, MOSCOW
""Now that the dust has settled following our sales meeting in Redondo Beach, I wanted to take a minute and offer heartfelt thanks for the excellent program Venture Up provided for Cinram. This was the first time our organization had pulled folks together from Canada, the U.S. and Mexico for an "Americas" meeting and, with your help, I believe the meeting exceeded expectations.""
-- - Jill W. Croft
National Sales Manager
Cinram
""Thank you for the outstanding team building session. As our other venture had cancelled at the last minute, and you stepped in on such short notice, all of us felt that Venture Up played an important role in making our Strategic Planning Meeting a great success.""
-- - Wade H. Baker
CEO
Payback Training
""Thank you for your hard work with two wonderful team building events. The group definitely grew much closer. Your ability to make frequent trips to our LA office to meet with senior management allowed us to bring this program to fruition. Your staff is truly great to work with.""
-- - Kristen Buttery
Recruiting Coordinator, Investment Banking
Donaldson, Lufkin & Jenrette Securities Corporation
""Venture Up put together a fantastic program for our team. I was especially impressed with your pre-event needs analysis. You hit all the points we discussed. Team building, risk-taking, motivation, communication and trust building. And to think...you pulled it all together for us in less than 10 days.""
-- - Michael D. LiBassi
Manager Strategic Marketing
American Airlines
""Thank you once again for putting together another terrific program for us this year. We all came away with some new ideas on how to work together better. The feedback unanimously has been positive. Venture Up once again exceeded our expectations and delivered a successful program.""
-- - Gary Friedman
Executive Vice President
Williams Sonoma
""Thank you for again putting on such a wonderful and fun program for us at the Ritz Carlton in Chicago. Given both the space and time constraints you had to work with, the program was absolutely flawless. Human Foosball was definitely a big hit this year. It is evident to all of us that you truly enjoy what you do while instilling in the participants a level of team cooperation and drive that most business sessions cannot accomplish.""
-- - Kris Laverty
Administrator
TransUnion
""We have achieved dramatic improvement and outstanding success due in large part to services provided by Venture Up. Your ability to understand our challenges and provide value-added consulting services has been a critical factor in our success...I consider Venture Up to be part of our team and look forward to continuing our relationship in the future.""
-- - Kenneth J. Laszczych
Senior Manager
Ernst & Young
""The corporate beach games hit the mark. You took the demographics of the group and formulated appropriate games for all of us to enjoy. Your enthusiasm and eagerness in planning the event was the first step to a continued business relationship with us.""
-- - Tammala L. Spencer
Regional Sales Manager
Affiliated Paper Companies
""Eight hours with Venture Up will pull you together more than 1,000 hours around a table.""
-- - Bruce Willams
Human Resource Manager
Bank One
""Our Venture Up experience was a total success. Once again, you have added tremendous value to our team building efforts here at GTE. Each person has grown individually and believes that our team has become much stronger as a result of this shared experience.""
-- - Jeri L. Cowan
Vice President, Systems Provisions
GTE
""Our adventure day in the Superstition Mountains was a smashing success! Perhaps most impressive was the manner in which basic business concepts were communicated to the participants. The lessons about the need for thoughtful planning, for clear concise communication, for thinking across functional lines, for creative risk-taking and for trusting your fellow team members were delivered in a manner which will stay with our people long after the event.""
-- - Henry G. Ciocca
Chief Executive Officer
Markborough Development
""I wish there were words to fully describe how our lives have changed both personally and professionally as a result of our excellent adventure with Venture Up. We have a connection now, a bond that cannot be broken which gives us all an extra sense of support and incentive to expect great things of ourselves.""
-- - Penny L. Newlun
Rental Manager
Caterpillar
""Venture Up did an excellent job of making the Anderson Clayton Corp. Managers Meeting the most energizing and valuable meeting we've ever had.""
-- - Heather Walker
Vice President of Marketing
Anderson Clayton Corp.
""Venture Up field personnel are extremely effective in their roles as facilitators. In addition, they are very accommodating to make sure that your experience is as satisfying as possible in all aspects.""
-- - David Griffin
Vice President of Human Resources
Huttig
""Our meeting was so open and honest after the experience. Our people were really pumped up and excited. Since then, managers have told me it changed their lives.""
-- - Kathy Sederhom
Regional Vice President
Charles Schwab
""What a great experience. Our day with Venture Up was memorable. Thank you for your leadership and for working with us to ensure that we had an exhilarating time, while maintaining focus on our objectives.""
-- - Kate Bickmore
Vice President of Human Resources
U-Haul
""I have been absolutely astounded by the lasting impact Venture Up has had on our family at Buca di Beppo. We completed the course almost two months ago and our partners and executive officers continue to rave about the experience.""
-- - Daniel Durenburger
Divisional Vice President
Buca Di Beppo
""A note of thanks for the very helpful training afforded our staff by Venture Up. The training they provided at the Merchant Marine Academy was very well received. The various exercises and interactions proved most beneficial to the participants. Our staff members are sometimes very difficult to engage, due to the stressful nature of our jobs. Venture Up, however, was able to get them involved and engaged in short order.""
-- - Cheryl L. Holmes
Deputy, Chief Officer
U.S. Probations
""... I want to thank you for all the time and effort you put into our team-building program. Both personally and professionally, I found it to be one of the most rewarding programs in my experience, and the team members are still excitedly talking about the exercises and how the lessons learned can be applied in our company.""
-- - Sheena Tejeda
Vice President Operations
New Vision International
""The team had a blast! We will be looking to have a class once a quarter with the next one around February-March. Thanks again for a great time!'"
-- - Tali Kirschbaum
AzFSM Trainer
Intel
""In two short hours Venture Up was able to break down barriers, get our group interacting in a productive way, and most importantly, taught them applicable team and communication lessons along the way. As an academic program, I appreciated that after each activity, or group of activities, the Venture Up leader would tie back the lesson to credible research including Harvard Business Review cases and current MIT research. I highly recommend Venture Up to any organization looking for a way to get their teams engaged and thinking about collaboration and communication.""
-- - Nikkole McCartin
Director, Executive MBA
Lee School of Business UNLV