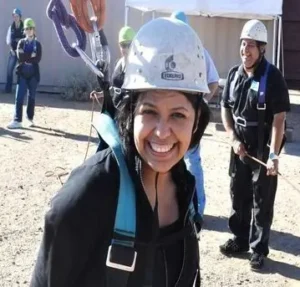 Venture Up's team building High Ropes Course is fun, exhilarating and geared for groups diverse in every possible way.
VIDEO: Ropes Course – U-Haul's 70th Anniversary
The Ropes Course requires no special skills or physical conditioning. Team members ease into the experience with a series of interactive games requiring strategic thinking, trust, effective communication, and creativity.  When teams are motivated and ready, they take on the High Ropes Course elements, rising 30 feet high. The U-haul program shows how large, diverse teams have fun, while challenging themselves physically, emotionally or intellectually. All activities are voluntary.
Ropes Course elements are visually dramatic, thus creating a high perception of risk and excitement. Harnessed into rope safety systems, team players work alone or in pairs pushing their comfort zones to meet the challenge, while teammates offer support from below.
Participation in each activity is an option. We understand everyone's comfort zone is different, and convey this to teams beforehand, so there is no pressure to participate physically in every activity. High Ropes challenges are based in the popular phrase, "I have to do it myself, but cannot do it alone".
Upon completion of the course, all team members can expect to feel the exhilaration of success — personally and as team players. Our Ropes Course offers the ultimate team building experiences for conference groups, training programs, and personal development retreats. Many of our teams remain afterward for a cowboy cookout in solitude under the stars.