Chicago Team Building Activities & Events
The windy city has much to offer besides great food and Oprah. Chicago offers prime sites for team building activities, from the shores of Lake Michigan to the high rise luxury hotels towering over the great Midwest city. As the nation's leading conference destination, Chicago wants more than world class hotel amentites. They seek to give attendees an experience to remember; a way to build relationships and take the message back to work. Venture Up's Chicago team building programs aim to engage staff in an experience that shows them new ways to view challenges and interact with each other.
Celebrating 30+ years in business, Venture Up has helped corporate leaders build staff relationships for conferences, events and on site training programs. More than 250,000 clients have kept us on track delivering creative team building events every time. Working with repeat clients — 80 percent of our business — drives us toward continuous innovation. Meeting planners are always looking for something different, something new.
In 1983 we went from being America's first team building company, to the nation's largest team building provider with programs in the U.S. and abroad. We work with people of all shapes, sizes and cultural backgrounds; and offer programs in several languages.
Service: It's about you
Venture Up staff return calls immediately and deliver proposals within  a few hours of contact. We work on short notice, or plan months ahead. You can expect us to handle the details and stay in touch, so you have the peace of mind and the freedom to tend to other matters of your team building event. Our aim is to exceed your expectations, and history shows we can.
Clients
About 80 percent of our team building business involves corporate clients, who prove that word of mouth is the greatest advertising. We also work with many government and non-profit groups; school districts, charities, and federal agencies, such as the FBI, U.S. Secret Service, and U.S. Special Forces.
Many of our team building clients are also winners of the J. D. Power & Associates Award — and J. D. Power & Associates itself is on our client list. Venture Up also has a long-standing track record working with Fortune 100 firms, and with people of all shapes, sizes, physical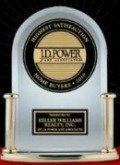 abilities and cultural backgrounds. Team Building groups range in sizes range from 8 to 1,000 or more. US Duns # 148821721
5 Fun Facts about Chicago
Chicago has 60 museums.
Chicago has 8,100 acres of green space, including 580 parks and 26 beaches.
Atomic power began under the football stands of Stagg Field at the University of Chicago, site of the first successful experiment splitting an atom.
The "Historic Route 66" begins in Chicago at Grant Park on Adams Street in front of the Art Institute of Chicago.
Strategic Games are the most popular team building activities in Chicago.