LAS VEGAS Team Building Activities & Events
Team spirit is alive and well in Las Vegas, especially with a new NHL team coming to town. But there's always been more to the Silver City than flashing neon lights and casinos. In fact, that's the last thing corporate meeting planners want for their staff. They instead seek good, clean daytime fun to build team relationships. Nothing infuses fun and value into corporate meetings more than Venture Up's team events. What brings added value is when the team building event supports company culture and improves employee engagement.
Venture Up works with a wide range of clients in Las Vegas, including employees in the travel and tourism industry. We met many of our long-term clients first in Las Vegas, so you might say that we got married here too, like Elvis.
Las Vegas CLIENTS
About 80 percent of our Las Vegas team building business (and around the world) involves corporate clients, who prove that word of mouth is the greatest advertising. We also work with many government and non-profit groups; school districts, charities, and federal agencies, such as the FBI, U.S. Secret Service, and U.S. Special Forces.
Many of our team building clients are also winners of the J. D. Power & Associates Award — and J. D. Power & Associates itself is on our client list. Venture Up also has a long-standing track record working with Fortune 100 firms, and with people of all shapes, sizes, physical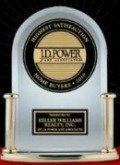 abilities and cultural backgrounds. Team Building groups range in sizes range from 8 to 1,000 or more.
Innovation
Since a high percentage of our business is generated from repeat clients and referrals, we are driven towards innovation. We're constantly developing new methods and programs to present fresh, creative activities in every corporate program. Team building Las Vegas activities today are not considered a luxury, but essential in maintaining work relationships and strengthening the corporate culture.
Team Building Sites & Las Vegas Hotels
We offer team building events at all of the major Las Vegas strip hotels, in the red rocks near Vegas, off the Strip in the Freemont District, at conference centers and at UNLV. We've also provided team development programs for hotel employees in Vegas.
VENTURE UP Las Vegas 
702-951-9611
7251 West Lake Mead Blvd. Suite 300 Las Vegas, NV 89128
US Duns # 148821721
5 Fun Facts about Las Vegas
The view from outer space shows Las Vegas to be the brightest city on the planet.
Howard Hughes requested 200 gallons of Baskin-Robbins' Banana Nut ice cream while staying at Las Vegas' Desert Inn.
Las Vegas is home to 15 of the world's top 25 hotels.
A heavy equipment playground in Las Vegas offers first-timers a chance to drive bulldozers for fun.
Elvis Presley performed 837 consecutive sold out shows at the Las Vegas Hilton.