Santa Fe Team Building Events
In 1983, Venture Up began in the Southwest, offering creative experience for individuals to reach their personal best with team building in Santa Fe. One success lead to another, and more than 250,000 people have been part of the Venture Up experience. Today, we are the leading provider of team events in Santa Fe, New Mexico, the U.S. and abroad.
Santa Fe has experienced explosive growth over the last decades, but still retains its charm. Rich in art and history, the pueblo is an ideal place for Venture Up's Amazing Race, a fun footrace and a culturally enriching team experience. Other popular team building programs include Strategic Games and Bike Building for Charity. We work with people of all shapes, sizes and cultural backgrounds, throughout the pueblos, and in Albuquerque and Las Cruces.
Santa Fe Customer Service
Venture Up staff return calls immediately and deliver proposals within a few hours for team building in Santa Fe and world wide. We work on short notice, or plan months ahead. You can expect us to handle the details and stay in touch, so you have peace of mind and the freedom to tend to other matters of your team building event. Our aim is to exceed your expectations, and history shows we can.
Santa Fe Clients
About 80 percent of our Santa Fe team building business and around the world involves corporate clients, who prove that word of mouth is the greatest advertising. We also work with many government and non-profit groups; school districts, charities, and federal agencies, such as the FBI, U.S. Secret Service, and U.S. Special Forces.
Many of our team building clients are also winners of the J. D. Power & Associates Award — and J. D. Power & Associates itself is on our client list. Venture Up also has a long-standing track record working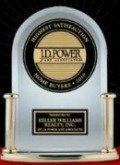 with Fortune 100 firms, and with people of all shapes, sizes, physical abilities and cultural backgrounds. Team Building groups range in sizes range from 8 to 1,000 or more. US Duns # 148821721