Indianapolis Team Building
Team spirit in Indianapolis knows no bounds, and team building in Indianapolis has never been better. Hoosiers have a strong sense of community rooted in humble beginnings, and the love of their sports teams is a lively part of modern-day culture in Indianapolis. American pride, team spirit, loyalty and gratitude to our veterans drive Indiana to be successful in the community and business world.
Venture Up, co-founded by Indiana native David Lengyel, has delivered fun and productive team events in Indianapolis since 1983. "Indiana has an edge on building relationships because the human connection is embedded in our culture," he says. "Reinforcing relationships comes natural to Hoosiers."
Given the strong sense of community and sports team culture, it is no wonder that Indiana's most popular programs are MegaCar 500 and Mini Car 500 — inspired by the Indianapolis 500 — along with Strategic Games, a broad-based collection of interactive games, often customized with elements exclusive to Hoosier team culture.
Venture Up is the leading provider of team building programs in Indiana, and has more than 250,000 clients during its three decades in business. Our corporate clients come in all shapes and sizes, from different cultures and backgrounds. We've worked on 5 continents and remain true to our Indiana roots, delivering team development programs in Fort Wayne, Bloomington, and regions beyond Indianapolis.
Indiana-style Customer Service
Venture Up staff return calls immediately and deliver proposals within a few hours. We work on short notice, or plan months ahead. You can expect us to handle the details and stay in touch, so you have peace of mind and the freedom to tend to other matters of your team building event. Our aim is to exceed your expectations, and history shows we can.
Indianapolis Clients 
About 80 percent of our Indianapolis team building business involves corporate clients, who prove that word of mouth is the greatest advertising. We also work with many government and non-profit groups; school districts, charities, and federal agencies, such as the FBI, U.S. Secret Service, and U.S. Special Forces.
Many of our team building clients are also winners of the J. D. Power & Associates Award — and J. D. Power & Associates itself is on our client list. Venture Up also has a long-standing track record working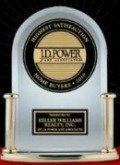 with Fortune 100 firms, and with people of all shapes, sizes, physical abilities and cultural backgrounds. Team Building groups range in sizes range from 8 to 1,000 or more. US Duns # 148821721
Innovation
With a high percentage of our Indianapolis team building business generated from repeat clients and referrals, we are driven towards innovation. We're constantly developing new methods and programs to meet the ever-changing needs of our clients, especially in the new economy. In these changing times, team building activities are not a luxury but essential in developing teams and reinforcing a strong corporate culture.
Info: 888-305-1065 / 317-222-1640
5 Fun Facts about Indianapolis
Indianapolis has the largest children's museum in the world, spreading nearly 500,000 square feet, and featuring more than 100,000 exhibits and artifacts.
Indianapolis is the only major city in the nation that is not settled by a river.
The Indianapolis 500 is the largest one-day sporting event in the world.
Elvis Presley's last concert was in Indianapolis in 1977. He died three months later.
The Coca Cola bottle was designed in Indiana.