When you know CPR, an emergency can have a joyful outcome. My family had just arrived in San Jose del Cabo to produce a promo video for our family company, Venture Up. Sitting under a palapa with my parents, my brother Miles and I were wet, exhausted and laughing, having just lost a fight with the raging riptide in the Sea of Cortez. On this beach,, black flags signal dangerous waves, vs. the red flags in the U.S. and Europe. There were no warning signs in any language.
Two men on horseback galloped right up to us, shouting frantically in a cloud of sand. "Doctor! Doctor." We jumped up and raced to a man supine on the beach, his family desperately trying to perform CPR. No pulse. He wasn't breathing. A crowd gathered. Tour helicpters hovered ahead. None of ths is good.
I went to work on him with chest compressions. Miles ran to the room to get my medic bag. I had received EMT certification at the University of Alaska six months earlier, but was no stranger to real life emergencies. While on a plane last summer, I had assisted a woman with heart trouble mid-flight. But John on the beach was turning blue. 
One thing I lacked was an automated external defibrillator (AED), but surely the hotel would have one. No. When the resort EMTs arrived their bag had less gear than mine. We continued CPR. Others on the scene were using a different CPR method than how I was trained. I moved in and performed the compressions as taught. Classroom facts ran through my mind. When a person has no pulse, there is a 1 in 100 chance for revival. How we needed an AED.
After 20 minutes we revived him! His pulse was faint, but he was alive. We prayed he had no brain damage. The ambulance paramedics ran on the beach with a stretcher and soon carried him to their van. Off to St. Luke's Hospital. We were relieved John was in good hands. Just as I had never heard whether the woman on the plane was o.k, I wondered if I would ever hear about John.
The next day we asked the hotel if they had any news. They could only say that his family had never checked out. My mom called the hospital but they were unable to provide patient information for privacy reasons. My dad called and asked if he may leave a message for the family. They texted back soon after.
John had 100 percent brain capacity! He had feeling in all his extremities! He was scheduled to be airlifted to his home in Omaha. My dad said his family called me his "guardian angel".  Wow! There's something about saving a life that is so fulfilling. John is now doing daily physical therapy and hope holds out for a full recovery.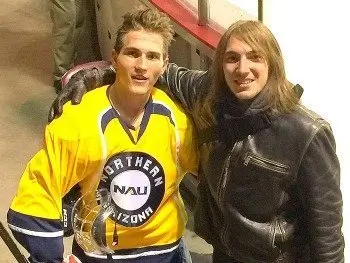 Beach emergencies are not uncommon in Los Cabos. One of the hotel staff said that John's was the fourth emergency that week! I never thought I would have needed an AED. Major establishments like hotels in the U.S. always have them. The cost for an AED is well over $1,000, a small price to pay to save a life more easily. I now know I need a specialized AED suitable for beach rescue.
Plans call for Miles and I to run coastal team building programs in foreign lands, and we plan to be ready since we can no longer rely on a fancy resort to have full emergency equipment. Miles is also on the way to getting his EMT certification.
This event also gave birth to a team building event I created for Venture Up. The Code Red program provides CPR training with simulated real life experiences. By the program's end, co-workers have the confidence to save a life, and have learned to trust and rely on one another should an emergency happen at work, at home, or anywhere, like Mexico!